Leave Out All The Rest is the fifth and final single from album Minutes to Midnight. The track also had two working titles of "Fear" and "When My Time comes". "Fear" was later released as a demo on the Linkin Park Underground 9.0 CD. The demo of the track features lead vocals from Mike Shinoda as opposed to Chester on the album version.

Despite the track being labeled as single material early on in the recording process, it failed to gain any real momentum on radio and placed low on a number of charts. The track only reached #11 on the US Billboard Hot Modern Rock Tracks, and #98 on the UK Singles Chart, which only beat out Given Up as it failed to chart.

The video directed by Joe Hahn features the band members living out their daily lives on a space shuttle. The video is heavily influenced by movie Sunshine and features no performance from the band, but does show Chester singing during some of his solo spots.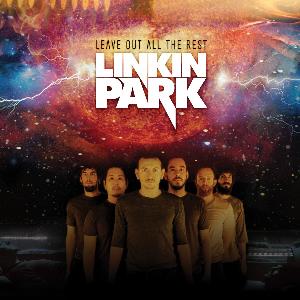 | | |
| --- | --- |
| 01. Leave Out All The Rest | |
| 02. In Pieces (Live from Projekt Revolution) | |
| 03. Leave Out All The Rest (Live from Projekt Revolution) | |

Single

Lyrics

Tabs

Video
Record Label: Warner Bros.
Release Date: July 13, 2008
Produced by Rick Rubin, Mike Shinoda
Formats: CD, Digital Download
Length: 3:29